Kira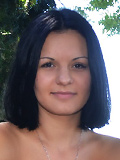 From:
Age at first shoot: 21
Height: 169 cm
Weight: 51 kg

Hello and welcome.

I'm Kira and I am here to make your visit to the site a happy one. I am sure that you will be glad you came here. When I do my part-time work as a hotel receptionist, between modelling assignments, I make sure that people are relaxed. Then I show them all that is on offer. I take them on a tour of everything that they want to see. If they have any special requests I try to make sure they get everything they want.

The way I see it, modelling is all very like this. If I please people they keep coming back time after time for another very special occasion. They become like friends and we get to know each other extremely well.