Kate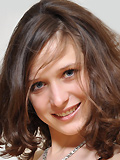 From:
Age at first shoot: 18
Height: 168 cm
Weight: 47 kg

Greetings from me

My name is Kate and I was born in the Ukraine. My star sign is Leo, which means I am a bit of a 'show-off' and yes it's true I do like to be the centre of attention! I love anything that is loud and fun like discos, and music concerts I like rock music the best!

I also love clothes and fashion and love to look at the fashion magazines; my favorite things are handbags and shoes. I suppose I am a typical girl. And my girlfriends are very important to me, I love to spend time and just hang out with my friends. We love to make each other laugh.

I like men who are lively and they must like loud rock music too. I hope you enjoy my pictures here. Bye bye for now.