Karina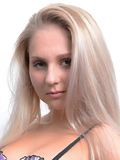 From:
Age at first shoot: 19
Height: 172 cm
Weight: 61 kg

Hi there everyone.

I'm an outdoor girl. I like things to get as wild as possible. That's why I love to go sailing whenever I can. I think it must be something to do with all that up and down movement. It makes me feel all strange inside in a nice way. I love it when I am far out. Sometimes I think it is best when I am doing it single-handed. But usually I know it is the most fun when there is someone else with me.

When I am on dry land and I am posing in front of a camera I sometimes start thinking about my boat. Then I become all wet and shivery again. I think it shows in the films that I have made. So when you look at me you will know I am daydreaming about feeling that way again.