Juliya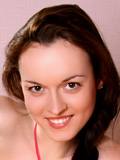 From:
Age at first shoot: 19
Height: 180 cm
Weight: 55 kg

Hello, I'm Juliya

I was born somewhere about 19 years ago in a beautiful city of Khmelnytskyj.

At the age of 6 I entered a foreign languages lyceum in my home town. I studied English and Polish there and that has helped me much in my life so far. I had a great time in the lyceum, now as I remember. Sometimes I thought studying was pretty difficult, but that was only once in a while. The rest of time I loved classes and loved spending my time together with good friends. Our class was friendly and we've made some awesome trips together.

In the lyceum I also tried to be active and was a member of Drama Club and International Club. So I can say I'm a very active person and a true leader.

I also was in tennis team and sometimes enjoyed playing volleyball.

Last summer after graduating from the lyceum I entered a pedagogical university, so now I'm a first year student on Foreign Languages Department. Going to be a teacher of English in some school, cause I also love kids and the fact that I can teach feature generation foreign languages and culture, just as I was taught it years ago.