Julia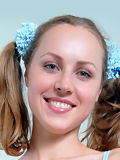 From:
Age at first shoot: 18
Height: 171 cm
Weight: 55 kg

Hello from me to you

Hello everyone my name is Julia and I am a first year student at University in Kyiv. I am studying languages and hope to travel the world one day – particularly I would like to go to England, USA and France.

In my free time I like to go dancing and to parties with my friends. I love dancing and have been taking lessons to improve – I really like the Latin American style of dancing but also traditional ballroom. I love the costumes the best!

Bye Bye!