Irok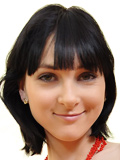 From:
Age at first shoot: 18
Height: 168 cm
Weight: 52 kg

Hello to everybody

Hello all I am Irok and I am 18 years old I live in Kyiv now but was born in Kharkiv in the Ukraine. I am a student at the moment and I am studying Tourism because I would like to travel and visit different countries in the future.

I like spending time with my friends and I love time on my computer using the social network sites I have a lot of fun in this way with my friends!

I would like to get married one day and the perfect man for me would be kind and generous and caring.