Iriska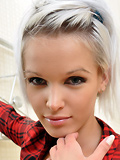 From:
Age at first shoot: 18
Height: 168 cm
Weight: 50 kg

Hello there!

Hi there everyone I am happy to introduce myself to you – I am Iriska! What can I tell you about myself? I have lived in Kyiv all my life and I guess you could say I am a typical teenager – I like nightclubs, live rock music and having fun with my friends.

I have been studying 'beauty' at college and work part time in a beauty salon - one day maybe I will have my own salon.

It may surprise you to know that I love loud rock music and my secret is that I would like to be the sexy girl singer in an all male rock band!