Irina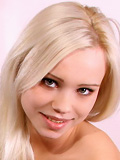 From:
Age at first shoot: 19
Height: 164 cm
Weight: 49 kg

About Myself And My Future Plans

Hi! My name is Irina. I was born in Kharkov region. I really love my home town; it is very beautiful, though not very large. All my childhood passed exactly in this town. Of course, there were a lot of good and bad things, so I have something to remember. I was born in autumn, my zodiac sign is Scorpio. I am blonde with green eyes and regular features. I am very quick-tempered and I calm down quickly. I can hurt a person because of my bad mood, but afterwards I regret of that. However, I like my zodiac sign because the girls of this sign are very passionate, loving, and sexy. I adore summer, sun, and sea, when you can lie in the sun and swim a lot. In my childhood I dreamt of being a doctor, teacher, or economist, but I understood on time that these professions are not for me, as I like to be in the center of attention, be a public person. For that reason I have chosen the profession of the presenter, which is something that I do like. At school I took part in almost all arrangements, and I got a lot from that. My hobby is to be taken pictures of; I like nude pictures which will be admired people, who will look at them thinking that the girl on the pictures is ideal in everything. I get a lot of pleasure from that and it makes me even more self-confident.

I want to master my skills in my profession at 100%. Being a presenter is a great responsibility to deliver the right information to people. I like my future profession and I t regret of my choice. A presenter is a person that has to be perfect in everything, starting from make-up and ending with clothes, together with being ideal and self-confident person, as a presenter is the face of the channel.

I want my parents and my elder brother to be proud of me, because I love them very much and t want to upset them.

I am very fond of pets, especially black cats. I have one, she is very kind and tender; however, she is vindictive, if you hurt her, she is ready to revenge at each suitable time.

Each person strives to have a good life and be independent. In my life I want to be independent. I need other people to value and respect me, as I am a personality and individual. I aim for successful and full life, and I t want to be dependant on somebody. I want to have a nice and loving husband and two kids, a boy and a girl. I want to live in prosperity and be the happiest. I deserve that!!!