Irina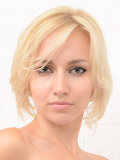 From:
Age at first shoot: 21
Height: 162 cm
Weight: 49 kg

Hi guys!

My name is Irina and I hope that you are going to join my fan club. I have always known that I was just born to be in show business. That is what I have been doing for years now as a singer in a girl group that I started. I made myself the lead singer because I love being in the limelight.

There's nothing that can beat the feeling I get when I know that everyone is looking at me and waiting for what I am going to do next. So modelling was obviously my next move. When I am singing I give the song everything I have got. I get really intense about it. When the camera is on me I do it exactly the same way. So all you have to do is sit back and enjoy the performance. I am a real show stopper.