Iren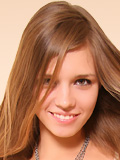 From:
Age at first shoot: 19
Height: 170 cm
Weight: 45 kg

Hi there

Hi there everyone, it is Iren here! Well what can I tell you about myself? I was born in Kyiv and have been living here all my life. I am a typical teenager in that I like discos, music, karaoke and having fun with my friends.

I have a big soft heart and I love animals. One day in the future I would like to open a sanctuary for homeless dogs, as dogs are my favorite animal. They are so loyal and faithful!

I have been studying 'beauty' at college and work part time in a beauty salon and one day I would like to own my own salon.