Galina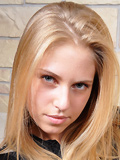 From:
Age at first shoot: 19
Height: 162 cm
Weight: 47 kg

Hello from me

Hi I am Galina and the first thing I want to tell you is that I like to have fun fun fun! Lot's of guys say I am too hot to handle but I know one day I will find a man who can match me - I am an optimist by nature! My hobbies include painting, design, photography and I love listening and dancing to music. Types of music I like include modern dance, techno and trance. I love nightclubs and I can party all night!

I don't like sport but dancing keeps my body in perfect shape. You need to have a lot of energy to keep up with me!