Dasha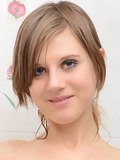 From:
Age at first shoot: 18
Height: 169 cm
Weight: 60 kg

Thank you for visiting me.

I'm Dasha and I am still a bit shy about modelling. Don't worry though. I am getting over it fast. Up to now I have been more used to horses than people. I was a girl jockey. There was nothing I liked better than a good hard ride at the start of the day. Yes, I know what you are thinking about that. Lots of people have made a joke out of it before now. But they also said that with my neat body I could be the favourite for modelling work. So I trained and the result is that now I am coming in a winner every time.

Now I am into my stride and nude modelling gives me the same thrill that I got from racing. You can bet that I will go all-out to come first.