Daria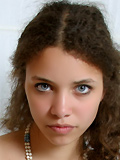 From:
Age at first shoot: 18
Height: 168 cm
Weight: 47 kg

Warm greetings from me!

Hello all I am Daria and I would like to tell you some things about me. I am 19 years old and my star sign is Gemini.

I love life outdoors and like beautiful nature, I also love animals and my favorites are horses and dogs. I also like going to nightclubs and can dance all night to the music!

I love beautiful things like clothes and jewellery and I love surprises. I would like to meet a nice man one day, a man who is generous and caring. I am a very caring person also and I like to look after people. I am a good cook too!