Daria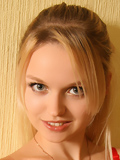 From:
Age at first shoot: 19
Height: 162 cm
Weight: 45 kg

Ok, something about me...

I am Daria and I am 19 years old. I am like "Duracell" battery full of energy. I am proud to say that this is true! I love sport and exercise and I love sex too. I am not ashamed to say it.

When I was younger I wanted to be an actress or singer but right now I'm not sure that is what I would want to be. I work as a club hostess right now and I just want to take some time to plan for my future.

I love animals and children and would like a big family one day. I also love reading, embroidery, listening to music and seeing my friends.

I am a very cheerful and positive person. I always like to see the good in people. I find that this makes my life happier too.