Aynur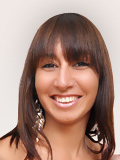 From:
Age at first shoot: 24
Height: 167 cm
Weight: 56 kg

Hello everybody.

I am Aynur and I come from Istanbul in Turkey. People come from all over the world to visit my city so it is a bit strange maybe that I want to leave it and go everywhere else. I have always been curious about trying new things and that is how I started modelling. Now every day is new and exciting. And I get to wear beautiful clothes – at least for a short time!

When I worked as a personal assistant my job was to please only one person. Now I like to think that I can please thousands. Maybe one day it will be millions of people! Watch out for me when I make it to Hollywood because that is where I am heading next.