Anya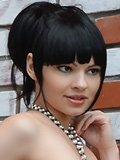 From:
Age at first shoot: 19
Height: 172 cm
Weight: 56 kg

It's Anya here. Hello to you all.

I am so pleased to have this chance to tell you more about me. It is so exciting for me to become a star model like this.

When I worked in a supermarket nobody seemed to notice me. I tried to look my best every day and to be pleasant but I did not feel that I was getting anywhere. Now I know that when I look my best in front of the cameras everyone is paying a lot more attention. I think that it is because now it is me who has the goods that everyone else would like to get their hands on to take home with them.

So all you need to do is to take a good hard look at what is on special offer this week. Then make sure that you grab it quick.