Anna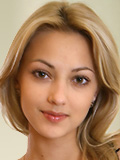 From:
Age at first shoot: 19
Height: 170 cm
Weight: 45 kg

My View of Life

Hi! My name is Anna. I was born in Ukraine in a wonderful city of Kiev. At school I was a very pugnacious girl; I always could protect myself, even if my offender was a boy. Since childhood I was interested in creative activities, I was fond of singing and dancing, I even solofor my relatives and neighbors.

However, together with age my hobbies changed a bit. At the present moment of my life I prefer extreme kinds of sport. I realize this hobby by fast driving a sporting car, or driving a sporting motorcycle. Exactly these minutes let me understand the fact that a human life can stop so quickly; however, the extreme and adrenaline that I get during driving let me think over about the sense of life. Therefore I try to live my life the way that t let me regret about anything.

Sometimes in an extreme flow of fuss you t avoid inner rest, and that I attain by meditation. In such a way I plunge deeply into myself, renew my energy. This restores my life balance.

Sometimes I have a wish to treat my beloved man with exquisite delicacies. Even though it happens not so often, it tastes very good (at least my beloved one says so). Myself, I prefer Japanese cuisine and eastern sweets.

In future I want to become a psychologist, s why I am very interested in psychology and study it with the help of books. What attracts me in this direction? Most of all I want to explore the darkest corners of the human mind...

I think that the greatest aim of any human being is realizing love. I mean love not in the others but inside ourselves; we just need to awaken it. And for this awakening we need that other one. The universe gains sense only if we have somebody to share our feelings with; as usual, those meetings happen at the moment when we reach the limit, when we need to die and revive. Meetings are waiting for us!