Anna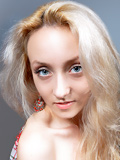 From:
Age at first shoot: 22
Height: 165 cm
Weight: 47 kg

Hi there!

Hi I'm Anna and I'm the kind of person who lives an active life. I like swimming, and playing tennis. Sometimes I like to be alone, reading a good book or just listening to music. I love the arts theatre, music, paintings, ballet and the movies. I have many friends, because I'm easy going and often make people laugh I'm a very optimistic girl, I'm always in a great mood and never get depressed.

I love my family and family values are important to me. I would love to meet a man and settle down one day and have lots of children!