Anna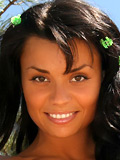 From:
Age at first shoot: 19
Height: 160 cm
Weight: 48 kg

Hi, everybody!

Let me introduce myself! My name is Anna, I am 19 y.o. I am living and studding in Kiev - the Capital of Ukraine.
I am very active and interesting person! I like dancing, sports and all the active kinds of rest. From the other side I like reading and to spend time in quiet conditions, when I can dream about all the day-problems and my future!

I like traveling very much! That's so interesting to visit places, where you never been before! You can learn much more about culture and customs, you can contact new people and take a lot of amazing photos! Yes, I like to take photos! It is one of my hobbies. Photos is unique possibility to remember every unusual moment of your life!

But I like not only to take pictures! Next my great hobby is to pose! I am going to photomodel's school and there I often pose in front of camera! I like this process very much, because it is amazing possibility to show all your character! When I look at my photos I feel myself very sexy and cool! Also, I like when somebody looks at my photos, especially nude! That is so exciting! I like to feel desire of men! I like to be his passion and to turn him on!