Anna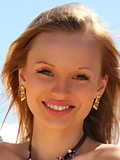 From:
Age at first shoot: 18
Height: 164 cm
Weight: 48 kg

Hello, everybody! How are you?

Don't you want to know something about me? I am sure, that you want! So, let me introduce myself! My name is Anna, I am 18 y.o.! I live and study in the capital of Ukraine, in amazing city Kyiv! I am sure, that Kyiv – one of the best cities in the World! And here, in Kyiv, the best students in the world: most active, most positive and most beautiful.

Well, I like summer, beach, chocolate and orange fresh. I like to read and to play video-games like Quake and Counter-Strike. Sometimes I play these games with my university friends.

Besides that, I like to kill some time in internet! I like to read some scientific articles and to chat with my internet friends from other countries. For sure, I enjoy social networks and online-games! In future I want to be part of huge e-commerce company and travel all over the world to offer partnership! But, wait the future and look at me in 3-4 year! Bye! Kiss you!