Alla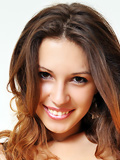 From:
Age at first shoot: 19
Height: 172 cm
Weight: 54 kg

Hello from me

Hello all – my name is Alla and I come from the Ukraine. I would like to tell you something about myself. I am 18 years of age and my hobbies include swimming, dancing and skating. I like to keep fit because it keeps my body in good shape.

I also like going to discos and dancing – I am very sociable and have lots of friends. We enjoy hanging out in cafes in our free time or going to discos or karaoke bars– I guess we are young and having fun is important to us.

Bye Bye for now!