Alina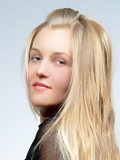 From:
Age at first shoot: 22
Height: 171 cm
Weight: 55 kg

Greetings!

I'm Alina and I want to make everything bright and exciting for you. I'm good at that. As well as modelling I am an interior designer. So I know exactly how to put everything just where it looks best. That is what I will do in your home and it is what I do in front of the camera.

I love getting everything exactly right. I think there is a lot in common between designing and posing. I need to get a feeling for what someone really wants and then provide it. Maybe in a way they don't expect. Lots of times I surprise people with what I suggest. Then when they try it, they love it. I hope you find the same with my modelling.