Alexandra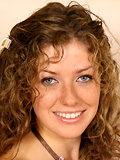 From:
Age at first shoot: 20
Height: 168 cm
Weight: 52 kg

Alexandra's Story

After having graduated from school the range of my interests and hobbies became broader. I tried myself in different professions – I think it is very exciting. I have recently graduated from college, where my specialty was organization of customer service in hotels and tourist centers.

For 2 years already I attend circus studio, and I like that very much. In future I would like to make my own performance. I think I could go in for it more seriously and this could even be my main occupation.

I like dancing and attending night clubs. I like music in general and everything that links to it. I eagerly spend time in noisy companies; however, I prefer loneliness sometimes. At such moments I read or draw – this calms me down. I really enjoy going to the theatre and cinema, but most of all I like circus performances.

I like traveling, and if it happens unexpectedly, the tour gets even more successful than a planned trip.

Most of all I like going to the seaside at the southern coast of Crimea. This place is very beautiful, with unforgettable landscapes, crystal clear water in the sea, mild climate, and pleasant inhabitants.

I enjoy spending time with my friends, having fun. I have more friends among guys than among girls. I don't know why, but it is easier for me to find a common language with guys – they have less riddles and treachery, and they are more direct. However, I met different people in my life – both good and not really, both among guys and girls. But in general, I seldom get attached to somebody, but if that happens, I can do many things for that person.

By my character and nature I am kind. I try not to do bad things to anybody. Sometimes I can be very lazy and absent-minded. But I am also very purposeful, cheerful, honest, and easy to get in love with. In people I value first of all honesty and ability to respect others.