Alesya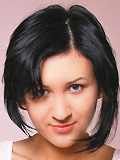 From:
Age at first shoot: 18
Height: 167 cm
Weight: 45 kg

Hello to all!

I'm Alesya, 18 y.o. I was born and grew up in Ukraine. After graduating from Lviv college I moved to Kyiv, where I combine my full time economist job and studying at the Economic College with part time job as a model and an actress in commercials.

Most of all I love hanging out with friends and making new ones, also love travelling. Already been to a lot of Ukrainian and European cities and towns and some American states. Now I divide my time between two countries: I live in Ukraine, but from time to time I visit the USA (trying to get the best of both worlds.)

My zodiac sign is Gemini, that means I am very different at times. Sometimes I'm hot and horny and very active and sometimes I behave like a little white downy kitten. Miaw!